Mother's Day Made Simple!
It's that time of year again when every child rushes at the last minute to get mom a Mother's Day gift – no matter how old or young you are, we've all been there before. But what we tend to forget year after year is how humble our mothers truly are, and how so deserving they are of a relaxing and peaceful day. So this year, why not give mom the comfort and peace of mind she's been asking for all year…a perfect, simple Mother's Day brunch, right in the comfort of your own home.
One of Inspired Catering's specialties is drop off catering orders. We deliver all the food, beverages, and supplies right to your home or venue, set everything up, and let you enjoy your time with your loved ones. So this Mother's Day, skip the stress and overpriced brunches, and opt for hosting an incredible brunch at your home. Here's what you need to plan the ultimate Mother's Day brunch (and to impress mom!).
FOOD
Arguably the most important aspect of a successful brunch, Inspired has the most delicious options for mom. Consider keeping things light, small bite-sized items, and pops of color and flavor with every dish. Here are some of our MUSTS for the perfect Mother's Day brunch (and a link to our new Drop Off Menu site):
-Mini egg souffles served with a cheddar-chive-bacon tater casserole (OMG) and a seasonal fruit tray. Our newest addition to our Drop Off menu and now a favorite by our regular clients!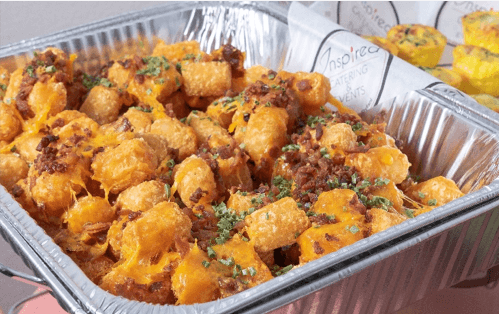 Build Your Own Toast *Our absolute FAVORITE for Mother's Day! *
-3 different kinds of breads served with an assortment of toppings including cream cheese, peanut butter, Nutella, whipped avocado, bananas, berries, bacon…and more! Have fun with your mom and guests by building your own toast combinations!
-From cucumber & brie, to asparagus & prosciutto and smoked salmon & cream cheese, tea sandwiches are the perfect small bites to have on your menu.
-Individual seasonal dessert parfaits are the sweet satisfaction mom needs after an incredible brunch spread.
-Served in the cutest little cucumber cup that mom will go crazy for!
–This insanely cute appetizer is topped with lump crab claw meat & fried garlic, and will make any Mother's Day feel instantly more upscale.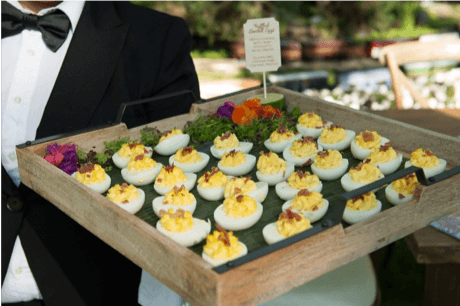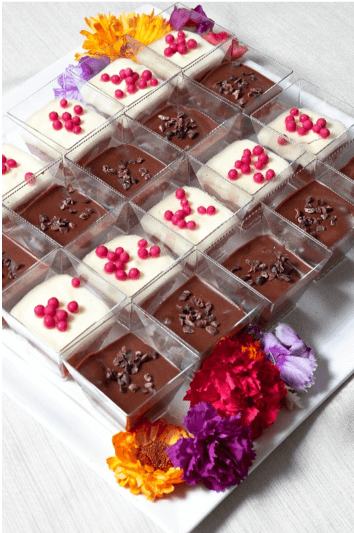 DRINKS
Let's be honest, sometimes drinks are more important than food on Mother's Day, especially if you have moms as hard working as ours! Consider purchasing your own alcohol and letting Inspired provide the perfect setup for a Bloody Mary or Mimosa Bar. Or if you want even less stress, let us provide it for you with the addition of a bartender to make drinks for your mom and guests all afternoon!
–Mom and guests will both go crazy over our house made Bloody Mary mix (we do a spicy and a mild one!). Our Bloody Mary bar is custom to order, but our traditional package includes both Bloody Mary mixes, Tito's Vodka, cheese & salami cubes, celery, pickles, green & red peppers, hot sauce, celery salt, olives, and Worcestershire sauce. Provide your own vodka and avoid the need for a bartender on site!
–We know it's hard to choose between a Bloody Mary and Mimosa, so don't feel like you can't have both 😊 Our Mimosa Bar is also custom to order, with or without the champagne depending on your needs, and includes orange juice, fresh berries, orange slices, and disposable champagne flutes.
–Maybe it goes without saying, but you CANNOT forget the coffee and soft drinks! We can provide hot coffee by the gallon with assorted sweeteners and cream, plus all the mixers you need for cocktails and those who don't drink.
DESIGN
You can't have a successful Mother's Day brunch without the right set up, but luckily, we're great at what we do and can offer you some tips and tricks for a simple, classic brunch. We can also take care of any rentals you may need, whether it be linen, flowers, or some more special equipment.
–There's not a mother in the world that doesn't love fresh flowers, and beautiful floral arrangements are the perfect way to add depth, color, and a pop of freshness to your brunch. Consider several smaller arrangements and greenery scattered around your main buffet table, and one main centerpiece on your dining table to really steal the show. Our friends at Anthony Gowder Designs do an incredible job with custom arrangements based on color or style, and they recently opened a retail portion of their shop so you can just stop right in!
–Don't feel like you need to go overboard with linen if you already have a stunning set up. Table runners are a classic way to add color and texture to a buffet or table setup without taking away from everything else going on. Sometimes less is more, and a great mother will appreciate that. If you need linen tips or inspiration, check out our incredibly talented friends at BBJ Linen!
–Disposable is the way to go! Easy clean up, and you can still find great disposable ware that looks luxurious (or we can provide it for you!). If you want to go for something more elegant, consider picking up some large chargers (like these) from a place like Home Goods or Target, or save the stress and let us rent them for you. Chargers add another great pop of color, and can make your table setting really shine.
Are you ready to start planning your ultimate Mother's Day brunch? Give us a call at 312-226-7611 or email at catering@inspiredbykgs.com to let us take care of everything for you and your mom this year. Happy Mother's Day!