Chef Spotlight Sean Kelly's Soup Recipe
Inspired Chef Spotlight
Sous Chef, Sean Kelly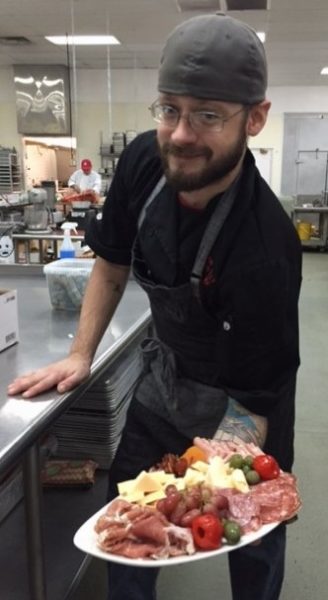 Chicago native, Sean Kelly is a Chicagoan through and through.  Although he grew up on the south side, he attended St Pat's school near Austin/Belmont and considers himself BOTH a south & north-sider.  Since we are in the middle of the Cubs madness, I had to ask if he considers himself a Cubs or Sox fan.  Rather diplomatically Sean replied, "I'm a hometown supporter."
Sean's passion for cooking started very early and by age three he'd made his first creation…a pizza, in a family friends Italian restaurant.
At the ripe old age of six, Sean was a regular in the kitchen at a restaurant in Lombard where his mom worked and began doing odd-job prep work of all sorts.
With two working parents and a little sister, five years his junior, Sean remembers doing a lot of cooking around the house to help out.  His favorites back then were Meatloaf & Pot Roast as he could have fun incorporating lots of skills going into the dishes.
Although Sean has no formal culinary training, his ultimate career choice came to him while studying at Western Illinois University while pursuing a degree in Criminal Justice.  The original plan was to go into law enforcement as a police officer.  His College employment was working for the campus food services.
Sean's skills grew immensely during this period under the head chef at the time and Sean quickly became his right hand.
It was then that Sean made the decision to make cooking his career.
For 11 years, Sean was employed by Sodexo, working his way up to Chef Manager.  With this position, Sean traveled within an eight-state region overseeing general food service operations.
In 2011, Sean ventured part-time into the catering world with a few side jobs to augment his income.  A year later, in 2012, Sean's dream was to become a Chef in a downtown Chicago restaurant.  That opportunity came to fruition as Sean was named sous-chef and opened the original Chuck's Manufacturing spot located in the Hard Rock Hotel.
From there Sean accepted his first job as a prep cook in catering.  After that, Sean was named Executive Chef for the King Café Gourmet & Go which is located at the shops in the 900 N Michigan building.
When offered the opportunity to come back to the catering world, Sean jumped at the chance.  He joined the Inspired Catering and Events team in March of 2014 as our Sous Chef.
When asked about his favorites to make, Sean was quick to answer, "soups, sauces and dressings!"  He says a "good old hearty baked-potato soup" would definitely be his favorite.  With a chilly winter quickly approaching, Sean is sharing his special recipe below.
When not in the kitchen, Sean enjoys spending quality time with his wife Donna and their adorable 16-month old daughter, Emma Rose.
"Good ol Hearty Baked Potato Soup"
Ingredients:
1 cup diced yellow onion
1 cup diced celery
2 TBL minced garlic
2lb thick cut diced bacon
4 large Idaho potatoes (peeled & diced)
1qt chicken stock
2 cup heavy cream
1 cup melted butter
2 cup flour
1 cup sharp cheddar cheese
½ chopped scallion
Procedure:
In a skillet slowly render bacon till crispy (do not burn the bacon)
Remove bacon from fat & add melted butter
Add flour to the fat & butter blend to make roux
Simmer roux for 5 mins, remove from heat & reserve for later
In a 4qt pot sauté garlic, onion & celery till onion is translucent
Add chicken stock & potatoes
Bring to boil & lower heat to simmer till potatoes are half cooked
Remove from heat and gently fold roux into soup
Place pot back on heat and slowly bring soup back to boil (be sure to stir to prevent soup sticking to the bottom of the pot)
Once soup is thick, stir cream into soup.
Once the cream is incorporated to the soup add cheese, bacon & scallions
Final Step…….ENJOY